I like to think of this blog as kind of a journal. (Uh, one that the whole world is privy to.) I want to be able to look back when I've lost my mind (which could be next week at the rate things are going), and remember the little moments, and the big moments which when all melded together, created my life. (The guy in charge of the slide show at my funeral should have it pretty easy. Just stick this on the screen, and you'll pretty much get the jist.) So, in lieu of sharing moments, it just so happens, today is the anniversary of a very special moment indeed. Let me rewind waaaaaay back into the past, where all things were in black and white and men were always in suits...yes, 6 long years ago. It all began when...(insert austin powers type multi-color tye-dyed spinning swirl here)
**Jan.31, 2004**
Well, here we are. The day we've been counting down to. And it's going to come...and go. I have a feeling baby wants to stay in the tropics a bit longer- which I'd say is pretty smart since we just got 2 feet of snow dumped on us! Although I don't think baby will join us today, there still seems to be something magical about the due date. It still feels a bit like Christmas. Is that strange? Hmm. I am JUST beginning to get better from a 2 week stint of laryngitis & strep throat. I have a little bit of a voice today...finally. It's been SO frustrating! I want to be ALL better when I deliver. Only thing now is I think I made King G sick. Ooops. :( Anyways, baby, I can still feel your feet up in my ribs, and I am SO excited to finally touch them and kiss you. Come and join us! I can't wait any longer! Mommy and Daddy love you SO much!! xoxo
**Feb 3**
...and I wait. wheezing in between the odd clear breath I can get. The mountains outside my window actually look warm, like they are wearing a white velvet blanket, in all that snow. The repetitious sound of our washer and dryer hums a rather soothing note to my soul. The softness of our "right out of the dryer" bedsheets and the fresh smell of fabric softener brings me back to being a well cared for child. Makes me want to stay in bed all afternoon. And then, of course, there's you. My precious miracle who constantly reminds me that you are completely out of room in there, with your not so gentle kicks and squirms. The question of "is today the day"? has long lost it's wonder. As the clock ticks and each second brings you closer to me, it may as well be an eternity today. So, I wait. For 2 hours, 2 days, 2 weeks, who knows? And what does it matter? Soon you will be in my arms, and we will begin to experience a love that is far different than all we've known up till now. I will be a mother...your mother.
**Feb 5**
12 Noon:
I AM GETTING CONTRACTIONS!! My back is SO achy. Is this it? The real deal?Oh please Lord, let this be it!! Time to start timing these, see what we are looking at here! **Lord God, be with me. Give me Your strength. Please please keep baby safe and healthy. Give me, G, doctors, nurses, Jen and Mom wisdom, and may the final stage of this journey be a testimony of your amazing mercy, love and peace to all involved. WELCOME TO THE WORLD PRECIOUS!!**
(Oooo, I wonder I wonder...are you blue or pink????) :):)
**Feb 6**
(My amazing friend Jen (who has been with me in every delivery) writes from here on...I was a little busy. ;))
(warning: the following is a birth story, and if you are a man, you may be disgusted and possibly hurl if you continue on, and if you are a pregnant or hormonal in any way woman, you may bawl your eyeballs out. Please prepare right now accordingly.)
Jen & mom arrived at the hospital around 8am. You have been laboring since noon yesterday and are 2-3 cm dilated. You still look strong and confident. Contractions are every 5 minutes. You just spent 45 mins in the shower and I told you stories (at your request). :) G and mom went to the cafeteria for some breakfast. You are doing amazing! G is now awake and ready to go! Haha. You two are hugging right now...awwww. :) It's just about 10 and you are going to walk around for a bit. In the last 15 mins you have had 4 contractions. You keep saying they are in your bum. :P They are much stronger now and Carol (nurse) just came to put the monitor on to check the heartbeat, she will check how dilated you are shortly.
You just threw up during a contraction. They are suddenly getting really intense. The nurse is coming to examine you. UGH! It's 11 and you are still only 3 cm and contractions seem very painful right now. Nurse is calling Doc. M to ask about giving you some drugs. He said yep! She just gave you some gravol and fentanyl ...they are kicking in ...ahhhhh, better. :)
12 noon and you had a nice little rest and the fentanyl was a GOOD thing. :P
Doc.M will come after lunch to break your water. They have put a drip on to induce your labor - oooooo- the contractions are back and intense. 3-4 mins apart. You got sick again, cause they are so strong. But you are now sitting on a lazy boy chair with a cold cloth on your head.
My guess for when baby comes is 4:19. Daddy G says 2:55. Gramma thinks 5:30. Tick tock, waiting to seee-eeee!!
12:55 and G and I just came back from eating and are hearing the nurses talking about an epidural.
Lord, we pray that you would bring peace and that you would cause the baby and Becky's body to do what it needs to do.
The nurse will examine you at 1:30ish and hopefully you will have dilated. LORD PLEASE!!
It's 2pm and you are in the shower. G is with you. Doc.M is on his way to assess things. Hoping baby is in the right position so we can get this party ON!!
Oh baby...hurry...mama is looking so tired.
Doc.M broke your water at 2:20. "Coolest feeling EVER" so you said. :P haha. Contractions were strong and consistent now. YOU ARE 7-8 CM NOW!!! WOOO HOOOO!
3PM, and you are exhausted. It's been 27 hrs of labor so far. So you said YES to an epi. And it's in...ahhhhhhhh....feeeeeels gooooood.
It's now 3:25 and baby will be here very soon. You have a BIG smile on your face and are singing along to a Christina Aguilera song. Haha. Daddy G and Doc.M are talking MAC COMPUTERS!! HA!!!
Gramma predicts its a boy. Doc.M and I are thinking girl. Daddy G is leaning towards girl, and you are SURE it's a boy...but really have no clue.
5:20 and the epi is wearing down, you are feeling a lot of pain again. Dr. Coz (the epi man) can't come yet...OH!!! You are FULLY DILATED nurse just said!! YAY!!! BECKY YOU ARE DOING IT!!! I am so proud of you!!
You are pushing!
GOOD GIRL BECKY!!!
(Oh, and your mom got her peanuts)

<-----I STILL have no idea what that was about. :P
7:10, you look SO tired, but you are doing well.
You are pushing!
AHHHHHHHH!!!!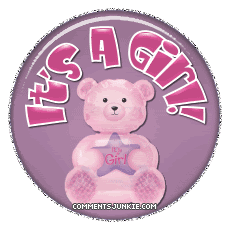 Born 7:46pm
Feb 6, 2004
8 lbs, 3 oz
19 inches
BECKY YOU WERE AMAAAAAZING!!!!!
WELCOME TO THE WORLD LIL PEANUT!!!! :D
(If you remember
Baby L's birth story
...yes, this one was a weeeeee bit different. ;))
**Feb 7 am** (the new mommy writing again)
Welcome to the world Queen S! :D
You are SO beautiful! You were born with copper hair!! I can't believe that! I LOVE IT!! There were TEN babies born here last night!! Nurses blame it on the full moon. Riiiiiight. So, needless to say, the maternity ward was loud with crying all night...but not from you. :) You are quiet and peaceful. One nurse told me that out of all 10 babies, you are the only one who picked up breast feeding right away! You smart girl you! You are so amazing. I am absolutely overwhelmed with the love I have for you!
Thank you Jesus for this precious gift. Thank you for choosing ME as her Mother. Guide me and G as we raise her to be the woman that you have designed her to be. Bless her in all that she does, in her comings and goings, be right beside her. Place in her heart a hunger for You, to know you, to honor you, to love you! I feel speechless, like words can not grasp the intensity of this precious gift You have entrusted us with. Thank you God, for her life, for every breath she takes. She's been breathing for less that 12 hours and I already feel like I have been blessed beyond measure. You are a good God. All the time.
All
the time.
6 YEARS AGO TODAY!
HAPPY BIRTHDAY MY PRECIOUS GIFT!
It has been SUCH a joy being your momma and watching you grow and learn and love life the way you do over these past 6 years. You are such a shining star! You have a gift of gentleness, just like that first day you were here. You are kind, and thoughtful and sensitive to others. You make me so so proud. Such a big helper, and such an amazing little friend I have in you. I love having our date nights and talking about heaven, and how reindeer fly, and how to say words in french. You are my sunshine...when skies are gray...
I love you truly, madly, deeply.
Have a wonderful day today princess.
Butterfly, Bear, Fish and sloppy kisses,
~Momma