Had I known her in grade 5, she's the one who would have yelled for me to hide under the bleachers with her to escape the mob of boys rounding the corner with sling shots aimed just at me.
In grade 7, she would have been the one who kicked the boy in the shin after he snaps your newly awkward bra strap for the 10th time that day.
In grade 9, she's the one who doesn't mock your totally lame poem you wrote for the mysteriously handsome new boy in 10th grade. (But encourages you to keep in in your journal for now, an NOT give it to him until your wedding day, cause then it'll be sweeter.)
In grade 10, she spends hours in the archery pit at camp with you as you both perfect your carvings in the wall of your initials and "his" initials...forever...and eternity....blah blah blah...
In grade 11, she's the one who sits in your closet till 3 in the morning with you, stuffing caramel coated chocolates in your face as you bawl and curse out that mysteriously handsome new boy who turned out to be a not so mysterious jerk.
In grade 12, she's the one who pours over YM Prom Dress magazines with you, looking for the perfect piece, only to discover, that ordering anything from a magazine and expecting it to fit perfectly probably is not the best idea.
She's the one who forgives you for stealing a boyfriend....or two. (Even if it takes 4 years, its better than never.)
She's the one who after being out of contact for 4 years, writes you a letter, telling you that her heart was absolutely devastated when she heard of you losing a baby. And, you really believe her.
She's the one who travels right across her country to come hug your fat 7 month pregnant body and make up lost time like like there is no tomorrow.
She's the one, who unless she lived RIGHT next door to you, will always live too far away. And in this case REALLY does live too far away...who likes Texas anyways??
She's the one who has been there, time and time again. Who exemplifies what a true friend is. Who says it like it is. Who is an example to many, yet humble in this fact. She's the one who has taught me how to be a better friend. And when it comes right down to it...though many many love her...she is, and always will be,
MY Julia-Goolia.
MINE MINE MINE!!
AND I GET TO SEE HER IN 22 DAYS AND COUNTING!!!!!
When we were 15...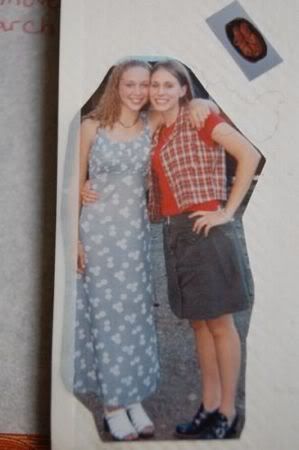 When we were 18...
My Jewels now...