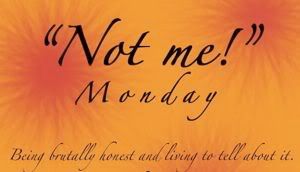 I have found that there is little more satisfying in my journey of motherhood than admitting that I am not perfect, that I do not know it all, and that I cut corners at mindblowing speeds. Feel free to share a NMM anecdote in the comment section to help us all breath a little easier, knowing there is someone else doing the same crazy stuff to survive. ;) But first....
When leaving Grandma & Grandpa's house on Saturday, after being there for 3 days, I was not putting on Princess B's boots when I realized that she was not wearing the same tights she had on when we arrived. I did not go back in my memory and have it dawn on me that she actually never took them off...for three days...and three nights...let's not even MENTION the lack of bathtime that implies. I would never go 3 days w/o giving my child a bath, nope, not me!
Speaking of tights...It certainly would never cross my mind to put pink and yellow butterfly tights on my baby BOY just to make sure his chunky legs weren't quivering under his pants in the cold arctic air up at Grandma's place. Who would do that? Probably someone who would also wrap their boy up in a pink monkey fleecy blanket after dressing him in pink and green giraffe pj's, and topping it off with a pink sucky in his toothless grin. That would NOT be me! But if it were, I'd know that real men can wear pink, so it wouldn't bother me in the least, even though it was all for the warmth factor..IF I had done that that is...
I did not enjoy playing in the snow like a 5 year old when we pulled over at a rest stop
on the way to Gramma's icy abode. There was nothing in me that wished my city might see a single snowflake before Christmas day.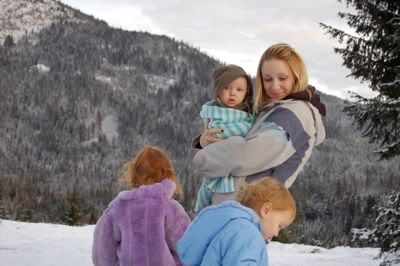 After taking a nice long sudsy shower, I did not exit the bathroom to find baby L bawling for a boobie. After getting comfy with the babe on my lap, I did not...er...taste the goods before letting him go to town, just to make sure they didn't taste like pomegranate shower gel. That'd be gross. And who can really reach that far down anyways?
I did not nearly leave a yellow puddle on the floor after laughing so hard at baby L's rendition of Riverdancing in his Jolly Jumper.


I did not sob like a snot covered baby when my oldest babe, Queen S, read her very first book to Grandma. I was not the proudest person on the blessed planet at that moment!

I am not secretly hoping our fish...Mr.Fish...dies soon, so that I can stop running downstairs before the kids in the morning to check...so if he HAS, I can send him to fishy heaven w/o them noticing. The fish swims sideways for pete's sake, how many days can be left?

My mouth is STILL not on the ground from the sight of these gas prices....