This is a common phrase in our house.
No, we are not Swedish (although, those red berries are to DIE for!)
But King Daddy G, back in his pre-married, pre baby, pre-happy life (:P), had the privilege of hanging out in a few countries, and picked up a few things along the way.
This one, in particular, means, "For the first time."
Having small children, we get to use this phrase constantly, as they are continually doing things...for the first time.
Today, we had another 'For Forsta Gangen' moment.
Queen S, had her hair cut for the very first time. What's that you ask? Her hair has NEVER been cut? Oh, me..yes, I have cut...er...mangled her tousles a few times...in fact...I believe her first introduction to scissors was at the tender age of 8 weeks. You know how babies turn their heads side to side when they sleep, and subsequently rub their hair off, creating an awesome bald strip in the middle of the back of their little heads? Yeah, Queen S did that BIG TIME, and since she had little hair on top, well, let's just say, have you heard the term 'skullet'?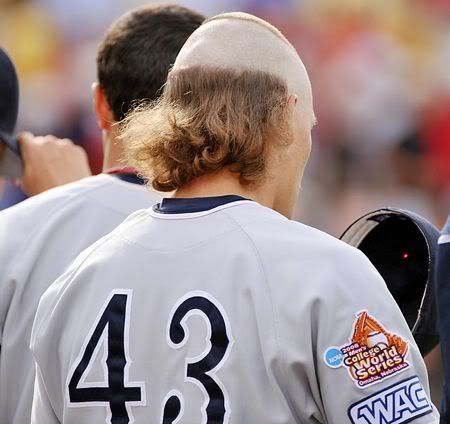 Yeah. Not good. So, while she lay peacefully sleeping, her little 8 week self got her first feel of clippers. But that doesn't count as her first haircut in my books, b/c getting a haircut to me implies that you are creating a new style, whereas in this case, we were more eliminating an unwanted, encroaching style. And the 3 or so times since then, that I have hacked, er, trimmed her tresses, well, those don't count either...for a similar reason. No style was ever achieved, rather she just wore a hat for a month.
Getting a new hairstyle can help you feel more powerful, flirty, confident. Queen S certainly never had those emotions in results to a hack job, um, haircut until this day. Because on this glorious day, I had a REAL hair stylist do it. You know, one who actually went to school. It's makes a huge difference I found when you aren't constantly chanting to yourself, "How hard could this be?" or thinking, "Now where did I pack the summer hats away?"
So, here are a few windows into my Wednesday...into Queen S's For Forsta Gangen hair cut.
You know you have an awesome stylist, when instead of a shelf loaded with Redken products, her shelf boasts Kahlua and Bailey's.
And only at this place might you also be able to hold a hamster while getting your new look.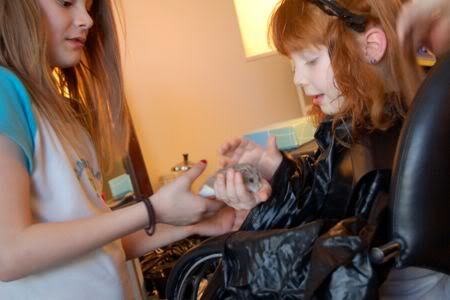 But all in all, the end product speaks for itself...there's a new Queen in town!
Ps. A HUGE thank you to Ashley from SMG for giving Momma's Magic Moments a new do!! Loving all the bright colors!! YOU are a

STAR

!!