WHEW! One hour left on this fine, but insanely busy Monday...just enough time for one MOTHER LOAD of a confession! This hit the jackpot two days ago...I give you...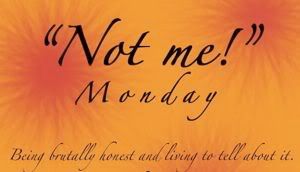 While on a shopping adventure (disclaimer: all trips to anywhere are called an adventure when you bring along ANYONE 4 feet or under..yes, this includes dwarfs Garnet, and their hats.), with Queen S and Baby L, it was brought to my attention that a bathroom was needed. Sigh...store bathroom+my kids= never good. We find the handicap large washroom and Queen S does her business like a pro. That's when I notice Baby L is soggy and could use a refreshing as well. Of course, there are no change tables within a 50 mile radius, which forces us multi-tasking Momma's to get creative. At this point I will tell you that I
did not
decide to strip down and sit my snow white tooshie on that dirty store potty (cause you know I had to go too), and then just stretch out my legs as a make shift change table and lay all 26 pounds of baby pudginess on them. As the sounds of "mommy-tinkle" fill the room, I
did not
open that diaper on my legs to find a wee little bum hole suddenly and violently spewing liquid gold right in my general direction. I
did not
scream out a slight expletive right in front of Queen S who's eyeballs were as big as dinner plates, and who's fingers were appropriately pinching her nose. I subsequently
did not
look in my diaper bag to find I had indeed left the wipes at home. After a huge sigh, (and maybe another expletive in my head), I
did not
opt to strip Baby naked (keeping in mind I am also still half naked), and waddle to the sink, soak his Old Navy tee and wipe him head to toe clean..well, wet anyways. As now, I am completely focused on my naked baby, and finding a diaper for him, I neglected to notice Queen S's increasing restlessness. And yes, it gets better..seriously, you can't even make this stuff up. Just as I squat down, pants still around my ankles, to lean over the bag in desperate pursuit of anything resembling a diaper, I
did not
hear the sound that freezes my entire body and sends all the blood rushing to my face. The lock on that bathroom door
did not
just click from the red 'occupied' to the green 'vacancy'...thank you Queen S. And with that, a very unsuspecting Mexican woman got blinded by the whitest backside in the entirety of our great nation. And it wasn't baby L's. At the end of the day, I figured that I had gone though enough to grant me the allowance of a new outfit for baby L (well, I really had no choice with that one), but I also deemed it very necessary, if only for my prides' sake, to buy myself a new top as well...but let me assure you this...it was not from that store...or even that mall...oh no, you can BET we bolted like desert storm lightning out of that place. So if anyone asks why I just didn't go to the mall to get this shirt for 10 dollars cheaper, I'll just smile and say, I prefer to shop boutiques, guess I'm just a high roller.