First, a couple disclaimers:
a)pictures of pictures don't work so great. :P
b)I apologize profusely to my bridesmaids for my choice of fabrics, gotta love late nineties/early 2000's style...but it could have been worse.
c)Even though I have pictures to prove I was there, several sleep deprived years later, I can not remember what it felt like to not have bags under my eyes and only have to clean up after 2 people. I assume it was very boring. :P

Praying before I walk down the isle. Probably that I don't puke on King G. I was SOOOOOOOO sick from some kind of tropical flu.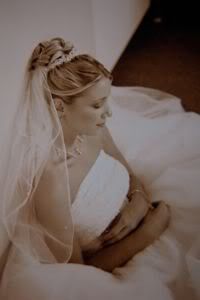 After several licks and sucks on that blasted 'swollen from nerves' finger...THE RING IS ON PEOPLE! It's official!
My girls. (Denise,Liz,Skyla,Veron,Kelly,Tanya,Jackie. And Patricia and Kelsey, my sisters and flower girls.)
The whole bridal party gang. 14 in all.
Mmmm, my sexy man and I. Just Married. On cloud 9. (The fuzz is on the picture, not his suit. HE was impeccable in every sense on the hottness thermometer.)

Yes, he still feeds me grapes. It's why I'm keeping him.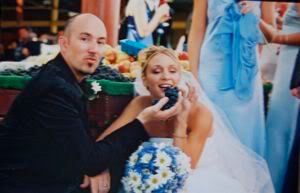 Running away to Mexico. We actually did.