Two things on my mind today.
First...how come I keep getting wiffs of something that smells like burnt plastic?
My first thought was that Daddy G maybe was using the stove this morning and left a burner on with our plastic colander on it...um, not that that's
eve
r happened before. (Thank goodness for 2.99 replacements at Ikea.) But alas, no stove was on. Then I thought maybe something was resting on our floor heater, I did notice my wool slipper sox laying on it yesterday...maybe wool melts? Nah, nothing on the heater. Maybe my glue gun is on somewhere slowly letting out tiny bits of melted glue that over time has created a mile high plasti-mountain. Nope. Glue gun's off.
Now are you ready for the big reveal of what the mystery smell is?
Yeah, me too.
Sorry, I still don't know. It's driving me nuts.
So anti-climactic.
Second...I love grammas. In the last 3 weeks, both grammas have made visits to our home, and the joy and craziness of the kids just melts my heart.
Maybe that's what's melting....sorry, sidetracked.
Here's a couple pics of baby K with the grammas.
King Daddy G's momma:
My momma: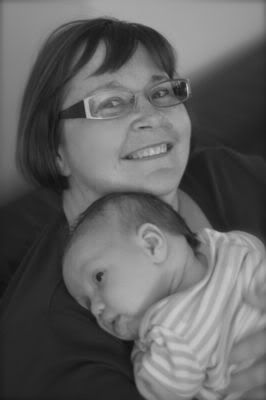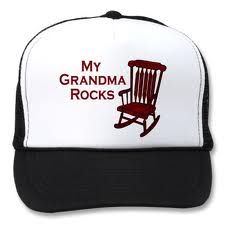 That's about it for today...
edited to add: JACKPOT!!! Found the plastic culprit!! Mr. ducky has seen better days. I rescued him halfway through his cremation INSIDE the heater!