IT'S TIME!!
To once again quiz your knowledge of my inner sanctum of girlies. I was so impressed with the guesses last time. You seem to really know your stuff! So check out these hotties and put on your thinking caps. (Can you tell I'm a teacher?) :P Might be YOU on here!! No one is safe from the attack of the Flyday quiz!!!
Lola*
~This naturally bleached blond beach bombshell resides in the land of barby's and koalas.
~She is mommy to one firecracker lil mini babe, who is a spit image of her Mommy.
~She has a sweet tooth for Tim Hortons timbits and chocolate chip mint ice cream.
~Up until 2 weeks ago, her chest size rivaled my brothers'. HAHAHA, sorry, couldn't help it.
~If I didn't know what she looked like, based on what I know, I'd say she looked like this:
Now, though, she's looking a bit more *ahem* like this: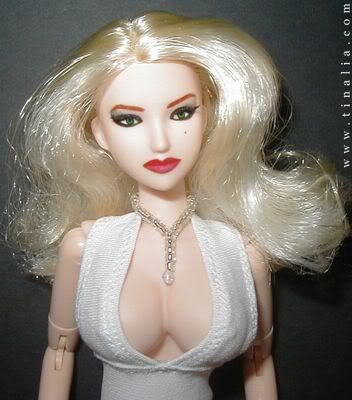 (Like I said, couldn't resist. :P Love you!!)



Cherry*
~This magnificently loving superwoman lives in the state of Carrie Bradshaw and the SATC girls!
~She recently had baby #4 which evens out the tally at 2 boys and 2 girls.
~She is the most thoughtful, congenial, accepting person who I have even known...she always seems to be able to give just a little more for someone in need.
~Because of the aforementioned characteristic, her house is home to many types of animals ,who without her, would be left in the cold. (Definitely Disney Princess material!!)
~When everyone else is ringing in 2009, she will be looking just like this:
Ginger & Paprika*
~These 2 world changers are homeless, which means they are traveling EVERYWHERE at the moment, but currently are taking up residence in the great kangaroo country. ~Although they are the most fashionable, saucy, beautiful girlies you might meet, they are also the most sincerely dazzling on the inside chiquitas.
~Ginger is an oober talented dancer, and could kill the SYTYCD competition.
~Paprika is about to take the world by storm with her fashion tee collection. ~Princess B and Queen S are like little replicas of these two...it could be because there might be a relation.
~If I didn't know what they looked like, based on what I know, I'd say they looked like this:


Trixie*
~This angelically spirited mamacita lives JUST under my country...except on the other side from me. (Which in my humble opinion is WAY too far away.)
~She is mommy to 4 beautiful babes, and I'm thinking will probably have at least one more.
~She is SO creative, from the projects she does with her kids, to the beautiful blanket and booties she crocheted for baby L.
~She has a very special and unique place in my heart as we both have walked a journey that has resulted in our babies playing in Heaven together. ~If I didn't know what she looked like, based on what I know, I'd say she looked like this:
OK, fine ladies...let the guessing games begin....try to use initials, not full names, if you are guessing in the comment section.
And in lieu of the Barbie hijack...a quote from Queen S yesterday...
"Daddy!! I need you to screw my Barbie!"
(When trying up unscrew a battery cover on the back of a sparkle & shine Barbie Princess)