Apparently, my society's customs say, if you have children, and stuff them into some kind of $9.98 Old Navy costume, throw a bag/pillowcase/ bucket in their hands, then they are allowed to knock on complete strangers houses (which are decked out in hideous nightmare material) and receive heaps of candy. While I may find some of this rather disturbing, all I can really see is...
stuff kid in costume...
...get candy.
Works fine for me.
So last night, my little angels became a kangaroo, froggie and ninja. (The froggie's eyes are covered by the crown. (He's not blindfolded asking for a cigar and his last request) Yes, it's a frog
prince
costume. And no, princess B does not care. It has a
crown
, what more matters to a 2 year old obsessed with princesses?)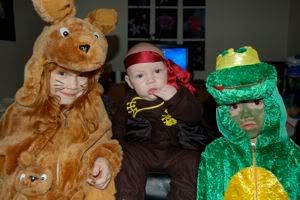 Baby L is a bit young to come along for the ride, and as much as I WANTED to stick him in the baby borjn, throw bag handles around his head, and cash in on THAT much more loot, his congested sniffles, booger covered face, and bellowing cough convinced me to leave him at home with Daddy. (Don't worry, this is ME here people, I had already worked out a backup plan to recover said lost loot. :P)
*******

My expert advise to grown ups is that if you can not obviously TELL what a child is dressed up as, and you just HAVE to make a comment on their get-up, say something that's a sure win, like, "Cute costume buddy", or "Woah, scary dude!" Do NOT say something like THIS to a kangaroo, "Aww, what are you? A donkey? A horse?" (Don't play the guessing game) Just as I was starting to feel awkward for my lil kangaroo, she surprised me completely when she retorted without even blinking an eye, "In my world, a horse doesn't have a baby in it's pouch," as she definitively pointed her paw at her baby kangaroo tucked in her tummy pouch. I almost spit out my Coke. That's my girl. You just put them in their place.
*******
It's been a now 4 year tradition to scour the neibourhood with our good friends- Erik (5)and Tyler(1) and their Mommy & Daddy. We hoist the lil ones into a wagon, and off we go, to pillage the villiage. This year, after about 15 minutes and 20 houses into the spree, my pillagers became weary and wanted to go home. WHAT? We did not have NEARLY enough candy! Don't they realize that this is IT? We can't just go have a nap and then do it again tomorrow? One shot cowboy...and we're doing it right! (Yes, I
may
have an over-achievement issue, as well as a sickly obsession with candy.) So what does any good Mommy do? Ups the sugar high, er, I mean energy level, shoves a sucker in each kids mouth, and sings Celine Dion's "My Heart Will Go On" at the top of her lungs. It really IS amazing how a sucker not only quenches the complaints, but energizes the pumpkins for a good 30 more houses!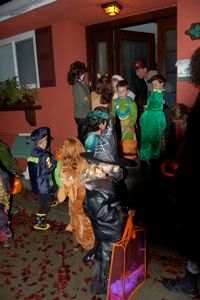 *******
And just when you THINK the end of the night has come, and we are back in our house counting all our goodies....
wwwwaaa hahahahaha....Mommy's "Recover baby L's stash" plan goes into full force! Time for Princess B to wash her face, brush her teeth and be fooled into thinking it's bedtime for
everyone
, not just her. Meanwhile, back in the batcave, Queen S is taking a quick potty break, and King Daddy G is prepping the getaway carriage. Phase 2 in effect. 30 minutes later, Mommy sits at her computer, listening to the sounds of a congested baby snore through the monitor and rests easy knowing that her middle and youngest are dreaming of reese's pieces (who wants sugarplums anymore?), while her oldest is hard at work, scoring more loot for her Mommy...I mean herself, for herself.
*******
T or T ing is hard work. And I raise the best workers in whatever they do. And the best workers even get to rest sometimes too.

Baby L's Recover Lost Loot operation...success!