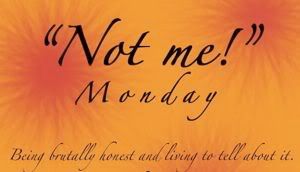 Queen S was complaining of an itchy bum while out at a restaurant. In fact, it was starting to turn into somewhat of a fit. So upon inspection in the washroom, and not seeing anything alarming, I informed her we'd put some baby bum cream on it when we got home. This answer did not satisfy. The tears began to surface, and so.....I
did not
riffle through my black hole of a purse, and whip out a lil jar of lip balm. And I certainly
did not
tell her that this was a very special bum healing jelly. And, for goodness sake, I would
NEVER
get her to dip her finger in my LIPGLOSS and smear it all over her "sore" bum. That's disgusting!
NOT ME
! (And I
did not
stick it back in my purse instead of chucking it out....in case of a future bum incident...might I add, it worked surprisingly well.)
When Princess B was calling for Mommy for the umpteenth time since being put to bed, and wanting a "yittle sip" (insert Puss-in-Boots- melt your heart -big brown eyes here), and Mommy was way too tired to traipse down the 14 stairs and into the kitchen to retrieve a cup, I
did not
just go into the bathroom and grab a small bucket from the bath toys bin. (That may or may not have been slightly lined with residue of Tinkerbell bubble bath) . And after she had her tub water sip, I
did not
leave the bucket outside her door just in case there was another 3 am call for a yittle sip. That's gross.
I
did not
leave at the thrift store bags and bags of clothes which may have been still covered in baby puke and jam sandwich remnants. I
did not
choose NOT to wash them just to get me a few more loads out of my laundry soap. I do not have extreme guilt from doing...er...I mean, not doing this.
I

did not

turn around for 1.4 seconds, only to turn back and find Princess B stuffing a peanut buttered graham cracker in baby L's mouth (he's 4 months) while whispering, "It's a healthy snack baby!"
If anyone would like to share a NMM (NotMeMonday) moment, Pllllleeeeeease feel free to spit it up in the comment section!! I'd love to hear em, as I have sooo enjoyed the ones I already have received!!