What a paradox of a night.
It has been a good 15 years since I have seen so much blue eyeshadow, so many Ray Ban sunglasses, and so much fluorescent clothing. All accessorized by the largest multi colored hoop earrings known to man, crimped and backcombed bangs, and enough glow necklaces to start our own dollar store. It was like stepping into a time machine when you passed through those doors, although, under the glitz and get ups...there
were
a few differences...
...like how even though the lady in front of me was dressed like she was 14, she was constantly flipping open her cell phone throughout the night (which boasted a cute mug shot of a toddler as the wallpaper) to check in with the babysitter.
....or how when the security guard was checking all the purses for alcohol etc as we entered the building, the most he found in my bag was a diaper, a soother, a travel sized wipes box and a My Little Pony toy.
...or maybe how the lady two rows behind me kept stretching from side to side, because she confided that her back was really bad ever since having her 5th child.
...or how about the tee shirt that once screamed, "DONNY, MARRY ME!" now says, "DONNY, I'D GET A DIVORCE FOR YOU!" Hmmm.
As a band of 18-year olds, we might expect them to have hot vocals with stellar choreography. But now, as a band of 5 men pushing 40, when they unleashed the hot vocals with amazing dance moves...it's something to applaud! Clap clap clap... good for you boys...you must be taking your Centrum Complete vitamins everyday! And I'll bet you are on a low carb diet and turn in early at night since most of you are married and some with young children. Seems like that fans aren't the only ones who have changed. But I believe, like an aged cheese, we have only gotten better.
(And I must add, as much as the 80's had it's fashion faux pas, it's
SO
entertaining to see women aged 30-50 dressed like they were thrown in a hippy's tie dye farm while on their way down the beaded streets of a New Orleans mardi-gras.)
1988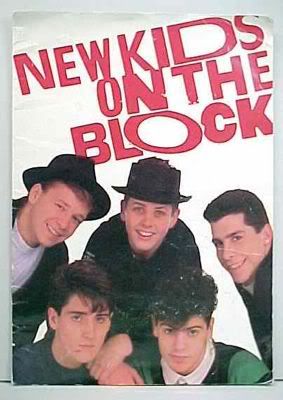 2008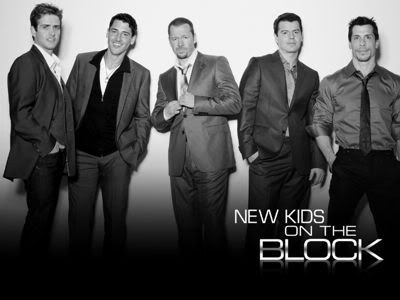 Oh, what's that? You want to know how good our seats were? Well, let's just say, my girlfriend is never washing her hand after Jonny slapped it. Can I put that on my resume?
**(Will you forgive me for pushing off our Flyday quiz for
one
more day? I have it all set up...in my head...just need to get in down on paper...er...keyboard.)